Updates
---

---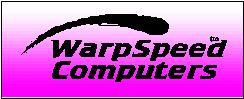 Updates and fixes are available from:

FTP Updates
Are you a netscape user and having problems? If so, read this: netscape.htm.
ftp://Updates:Updates@ftp.warpspeed.com.au
In that directory you will find:
RSU Updates
For information on RSU based updates please follow this link rsuinfo.htm.
There have been a number of problems with some of the more recent versions of RSUInst.Exe. The newest version, V1.94 has been tested and works with this site. You can download a version of it from here: RSUInstN.Exe [346,170 bytes]. You can read about it here: RSUInstN.Txt [4,080 bytes].
HTTP Updates